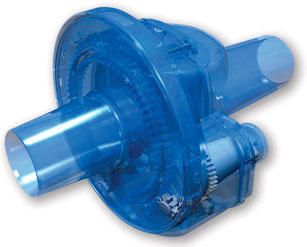 1 year warranty
Code: TWI001





Please Note:
• Twister will not fix a pool cleaner's performance if the cleaner has defective or worncomponents, or if the hoses are kinked, cracked or otherwise need replacing.
• Twister is only suitable for suction style pool cleaners that have a swivel hose connection.
• If Twister is being installed on a hose that is fitted with an In-Line Canister, then ensure that the leaf canister is installed between the Twister and the skimmer box.

Twister Brochure
Many suction cleaners get stuck in corners, others constantly follow a repetitive pattern around the pool. Either way, you end up with a dirty pool.
Solution:
Simply install Twister. Twister continually changes the direction of the hose – power steering your pool cleaner out of awkward corners to ensure a constantly random and thorough cleaning pattern.

Invented and perfected by an engineer who was frustrated with his suction pool cleaner. Engineered and manufactured by the Australian company you know and trust – Aqua-Quip.

How does Twister work?
Twister is powered by the constant flow of water through the pool cleaner hose and will counter-rotate the hose about 3 times per hour. A unique angled adaptor (included with Twister) is fitted between the pool cleaner and the hose. The counter-rotation of the hose causes the adaptor to continually change direction, freeing your pool cleaner from corners.
Simple to Install:
Suits all suction cleaners with swivel hose connection
Steers your pool cleaner out of corners
Allows random, thorough pool cleaner
"Twin-Track" continuous drive technology
INSTALLATION INSTRUCTIONS:
1) Switch off your pool pump and check that your baskets and filter are clean, and that your pool cleaner hoses are not leaking from splits or abrasion.

2) Cut your pool hose with a knife or hack saw, 10cm (4") from the skimmer box. If you have an In-Line Leaf Canister, then see notes below.

3) Submerge Twister until full of water. Fit Twister between these two cut sections of hose. Twister must be installed with the correct side facing upwards and the correct end facing the pool cleaner. Refer to the arrows and markings on the Twister to ensure correct orientation. Additional installation photos appear on the outside of the box.

4) Top of Twister should locate no more than 20mm above water level. If adjustements are required to the skimmer box connections to keep your hose and Twister at the correct height, then conatact your local Twister dealer.

5) Fit the Angled Adaptor between your pool cleaner and your hose. Place the pool cleaner back in the pool, fill the hose with water so that all air is removed.

6) With the Twister, hoses, angled adaptor and cleaner fitted and free of air, switch on your pool pump and watch your pool cleaner reach places it never reached before, without getting stuck in corners.

7) Your installation is now complete.