Badu Swim Jets Systems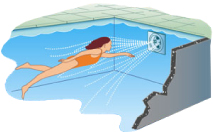 The Badu® SwimJet Systems can be installed in any type pool, large or small, from gunite to vinyl liner. It has no protruding parts ensuring pool user's safety, is very compact and installs at minimal cost.
The self-contained, flush-mounted unit is a jet-propulsion system that pumps water into the pool creating a current in excess of 5,000 gallons per minute from a single recessed jet housing. The full featured BaduJet offers suction and discharge in a unique, patented, one-piece dual nozzle housing. Volume control and on/off button are conveniently located on the face of the jet housing.
Now you can create an aquatic workout center and a virtual water park in your own backyard
and enjoy all the benefits of this exceptional water therapy. With a Badu SwimJet System from Speck Pumps, you'll burn calories, strengthen muscles and soothe body aches by swimming against a gentle or increasingly insistent current. You control the degree
of workout you want — building body, mind and spirit.
BADU SYSTEMS
Badu SwimJet Systems are synonymous with the highest level of quality you've come to expect from German Engineering. Why settle for second best when you can have a Badu SwimJet System in your pool?

Any pool or spa, large or small, can provide a mild to Olympic-style workout with endless swimming. Whatever type of pool you currently own or plan to build, a Badu SwimJet System will increase overall use and value.

Badu SwimJets offer the ultimate in flexible installation options and exercise levels. Outfitted with a Badu SwimJet System, your pool or spa can become a lap pool providing well paced aerobic exercise, or a treadmill for swimming and various levels of exercise, or simply a place for family fun reminiscent of a water park. Swim, play, exercise, relax – the benefits of the Badu SwimJet System are enjoyed by all ages without the cost of a lap pool.
BaduJet Features
• Adjustable recessed jet nozzles
• Flush mounted, plastic housing, 16" diameter
• Volume control knob adjusts flow of water
• Rectangular anti-entrapment cover provides undetectable suction (20" x 17")
• Pneumatic on/off button guarantees complete separation between pool water and pump motor control
• Air regulator adjusts amount of air bubbles in water flow. (black cover available)
• Tubing for pneumatic button, 50 ft.
• Control box with GFCI
• Speck 4 HP self-priming, plastic pump. UL Listed, single phase with thermal overload (no motor starter required)
• Massage Hose with pulsator may be attached to jet nozzle
HOW THEY WORK
A SwimJet System creates a current within otherwise still water. To accomplish this, the water is pumped into the pool through specifically engineered large recessed jet nozzles. These nozzles are mounted in an underwater housing in the pool wall. The water pumps that come with the system work specifically with the SwimJet nozzles to create a current of up to 1,100 LPM per jet. The jet nozzles can be adjusted to change the depth and width of the current for an enjoyable experience or a low impact water exercise. As a bonus, a massage hose can be attached to a jet nozzle to produce a pulsating, refreshing massage like no other.

INSTALLATION
A Badu SwimJet System can be installed in any pool or spa, large or small, either concrete or fiberglass. Each Badu SwimJet System comes with a complete, easy-to-follow installation guide and a customer assurance hotline for tech support.